The Childcare Supply Company, Inc.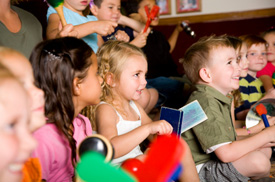 The Childcare Supply Company has been in business since 1988, and is dedicated to serving the child care industry including the National Head Start Association. Our mission is to provide high quality child care products at affordable prices. We are always mindful that a child is at the receiving end of all of our products and we reflect this in the quality of our daycare center merchandise.
Serving the Childcare / Daycare Industry
The Childcare Supply Company is constantly growing and evolving to serve the daycare industry. Corporate accounts are welcomed and special discounts are available.
We carry products and supplies that childcare centers and head start programs use everyday;
Daycare furniture such as high chairs, rocking chairs, cribs, diaper changing tables, tables, chairs and walls to divide spaces
Toys for learning, development and outdoor FUN - puzzles, toys, crafts, bikes, and software books/ e-books
Health and safety products include gates, protective gloves, foot covers, thermometers, toothbrush storage systems and much more
Cleaning supplies, soap and soap dispensers
Food Services and disposable paper products such as paper towels, facial and toilet tissue, napkins, cups, plates, bowls, and cutlery
We feature Rubbermaid Commercial Products, commercial quality cribs, gates,cots, mats, rugs, and many other daycare essential items that can be shipped directly to you from the manufacturer. In addition, we offer you excellent, prompt service and a staff of trained childcare product professionals who are always available to help you.
Division of Gloves Unlimited, Inc
As a division of Gloves Unlimited Inc we specialize in both latex and vinyl examination gloves, as well as general purpose latex and vinyl gloves for diaper changing. We also sell poly gloves and nitrile gloves.
Childcare Product Specials
Please bookmark our site and visit us often. We welcome you to LIKE US on FaceBook. Sign up for our new email list to receive our special offers on Daycare products.